ABNORMAL BEER COMPANY – 16990 Via Tazon – 92127
Note: Originally posted on beachinbrews.com from August of last year, this was my first ever foray into writing about my craft beer exploits… Looking back on it now it seems painfully obvious that I really didn't have a firm grasp on what it was I was writing about but for the sake of posterity, I've chosen to let it stand as originally written. Don't judge too harshly, we all had to start somewhere 😉
~
In addition to some other things we've got planned, we're going to be reviewing the local, San Diego Craft Beer oases based on what we're calling The Tourist Experience, which is exactly what the title suggests.
BeachinBrews (aka Inside The Craft) is rolling up on the purveyors of San Diego Craft Beers unannounced, unidentified, and unscripted. We're booking a flight (at least), having some food, and engaging the staff, all in the interest of providing the San Diego beer tourist a realistic snapshot of what to expect from San Diego's finest breweries.
It's open seating in an entirely first class cabin, and there's no need to buckle-up… Put your seat back, lower your tray tables and get ready for BeachinBrews First Flight at The Abnormal Beer Company in Rancho Santa Fe…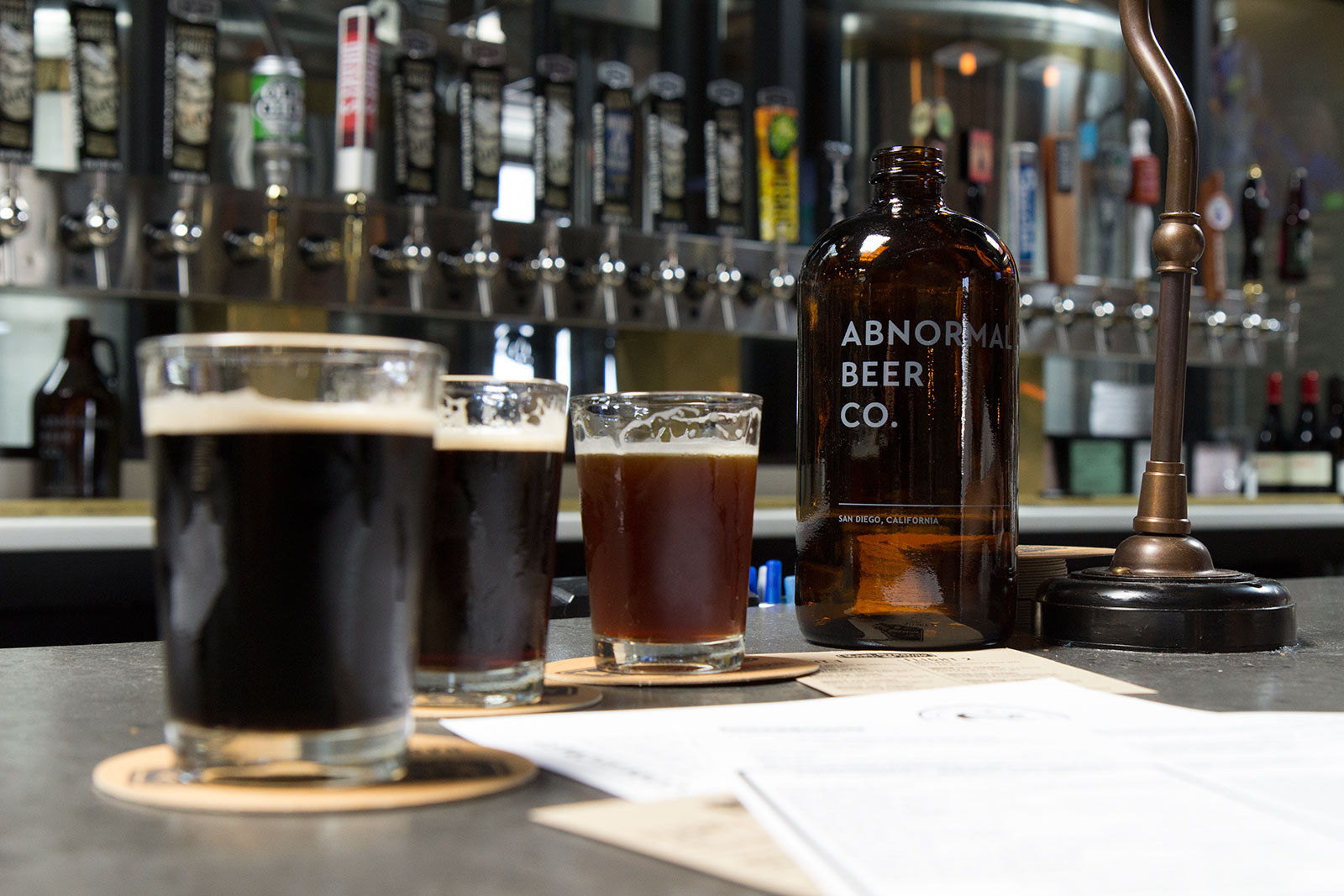 Abnormal Beer Co. First Impressions:

Would we go back? We (1 forty-something male and 2 thirty-something females) unanimously agree we had a great time and wouldn't hesitate to recommend Abnormal to friends. Good beer, good food, and a personable staff make for a nice trifecta… Head Brewer Derek Gallanosa was sitting at the bar a couple of stools down and was happy to answer questions from an annoying tourist (aka, myself). Commonplace or not, he was there and accessible at around 1:30pm on a Tuesday afternoon… Triple bonus points 😀
The Beer
We (relative nobodies in San Diego's craft beer community), saw Abnormal's FB post announcing the release of "The Full Pint Breakfast Porter", and decided it was sufficient inspiration to make Abnormal our first target. The rest is, as they say, "history"…
The Full Pint Breakfast Porter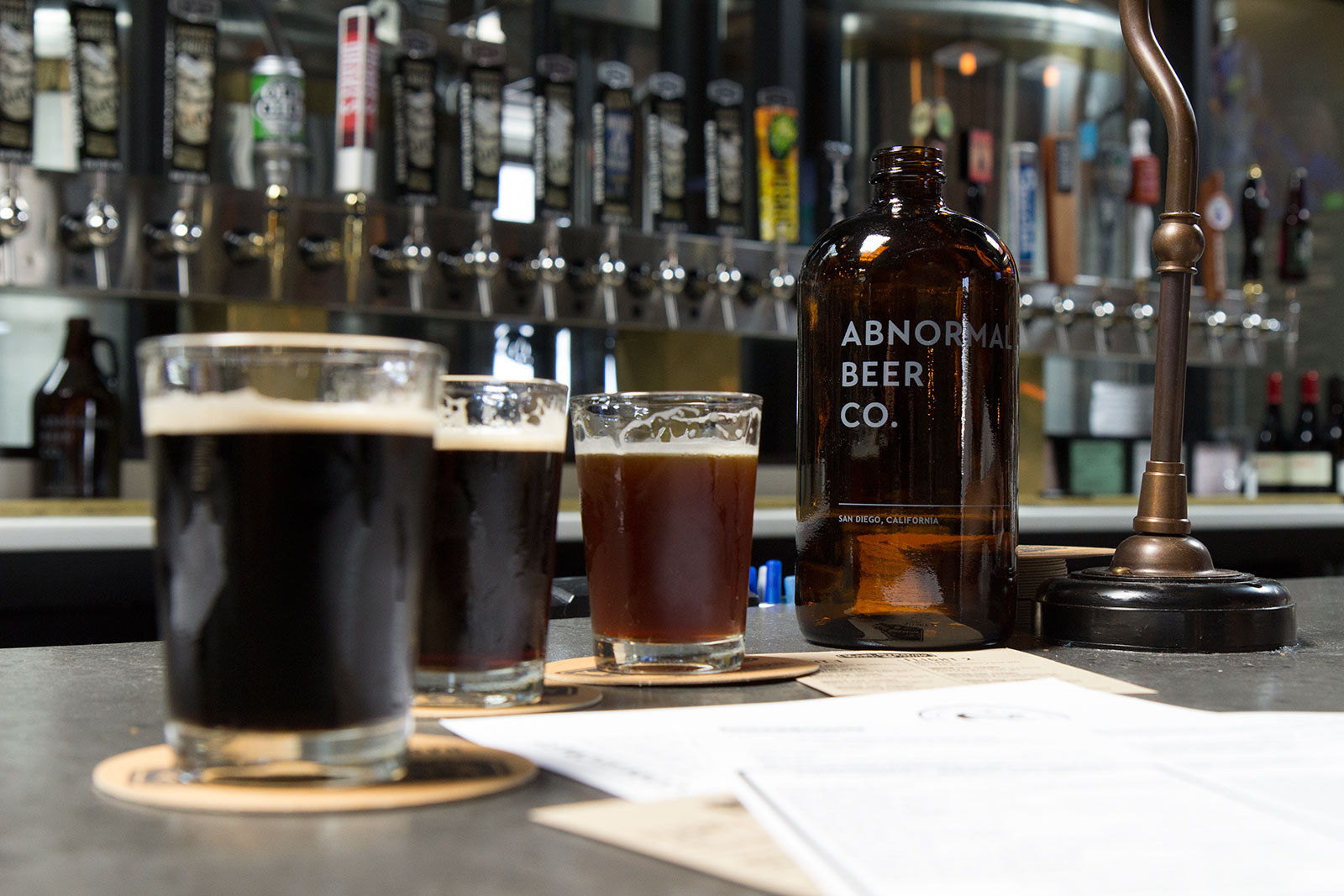 I've seen some mixed reviews of this beer online, but all three of us agree that this is something we liked a lot. A specialty brew you might not find on a regular basis, it stands as a tribute to the capabilities of Head Brewer Derek Gallanosa, whom I asked directly; when it came to "occasional" brews such as this one, did he test it as a small batch or just nut-up and let it fly? His confidence in his experience was obvious… He admitted that while they had a small experimental system for some of the more adventurous ideas, The Full Pint Breakfast Porter went live in a substantial fashion without hesitation. We've got no complaints about his decision… It was like having a cup of coffee and some oatmeal with maple syrup in a glass… Loved it, but we couldn't buy it for carry out 🙁 I also dug their "Bee Juice", Belgian-Style Honey Pale, but was less enthusiastic about the "5pm Session".
The First Flight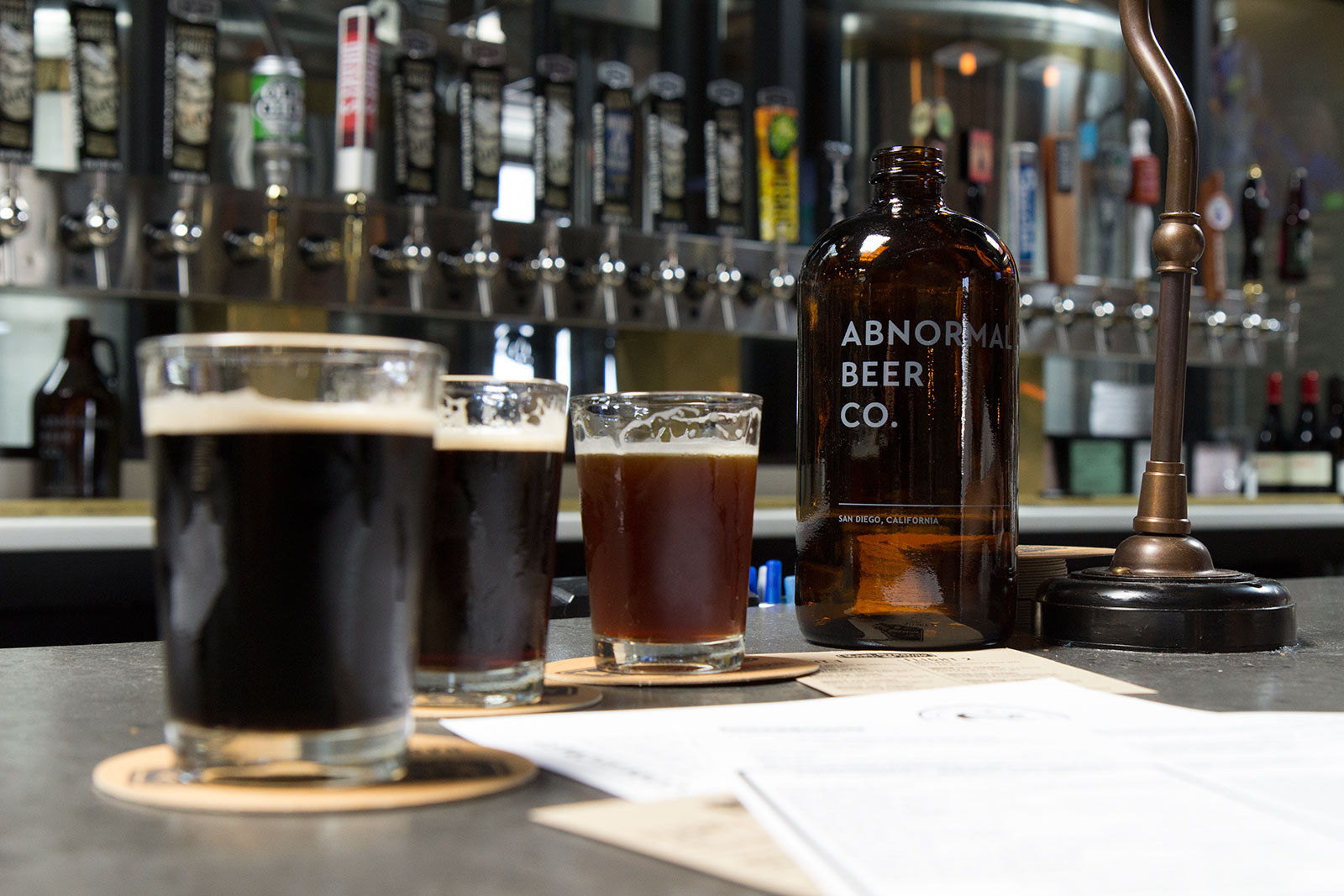 Flight #1 was voted up 2-to-3… The ladies were into it, me, not as much, but it should be noted that I'm generally not into sour beers … I'm an IPA guy by default, so the "fruity" tap takeover by Karl Strauss wasn't all that enticing to me. The upside? If the women can find something they like, that's more than 2/3 of the battle. The infused brews kept them interested while I was freed up to explore more "traditional" selections. Note to the complete newb: this Karl Strauss tap takeover provided elixirs that struck me as a cross between fortified wines and beer. Again, the majority of which were great for the ladies, but perhaps a bit flamboyant for the average craft brew aficionado… Just an opinion.
The Second Flight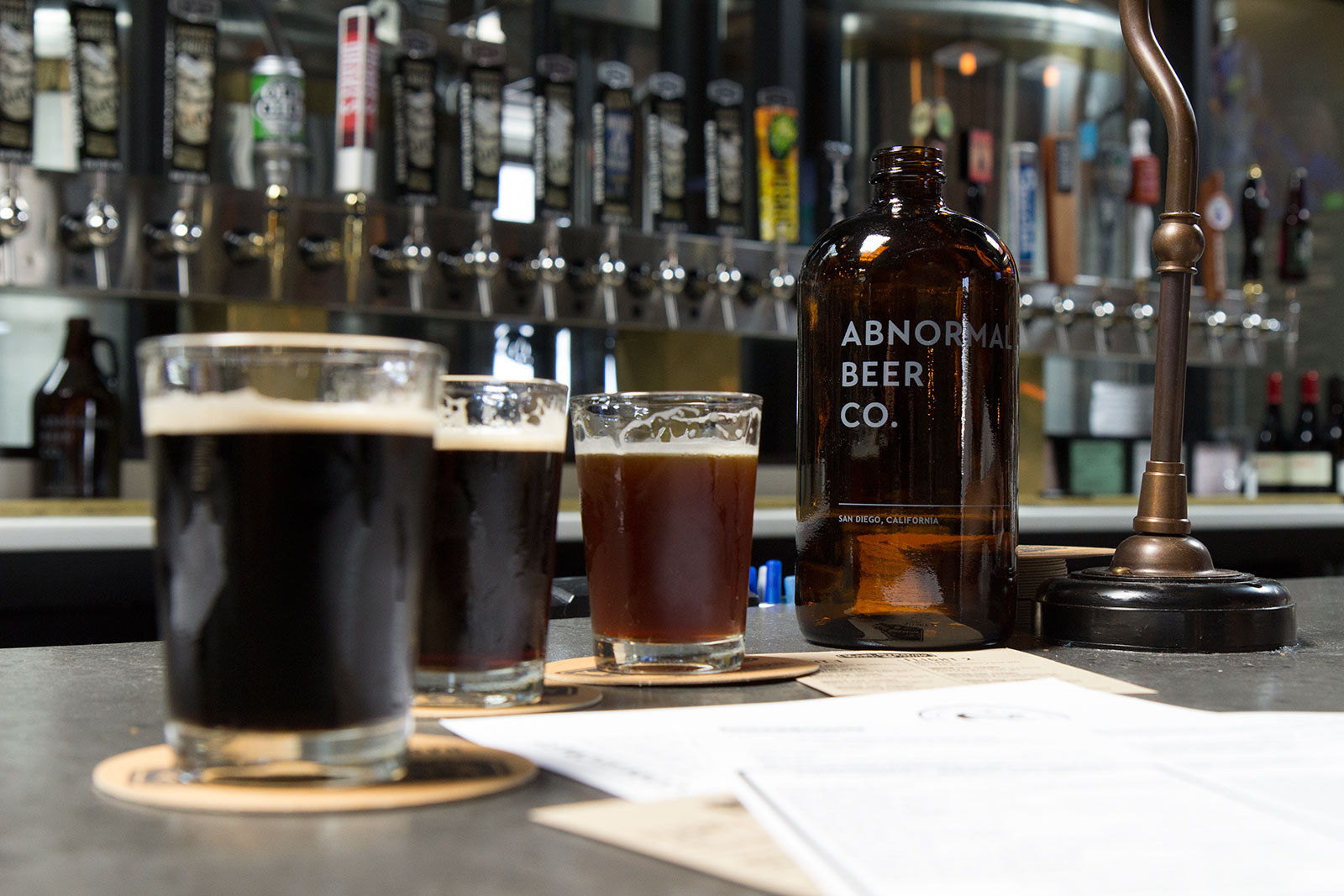 To me, same as the first… Quality, sophisticated "infused beers" that catered more to the ladies (IMO) than the traditional hop hunter. I enjoyed sampling them all, but my personal preference is to by enlarge, keep my beer and my fruit separate. It should be pointed out that these tap takeovers change all the time, so if you show up expecting the same flights in another week or so, you'll be out of luck.
The Food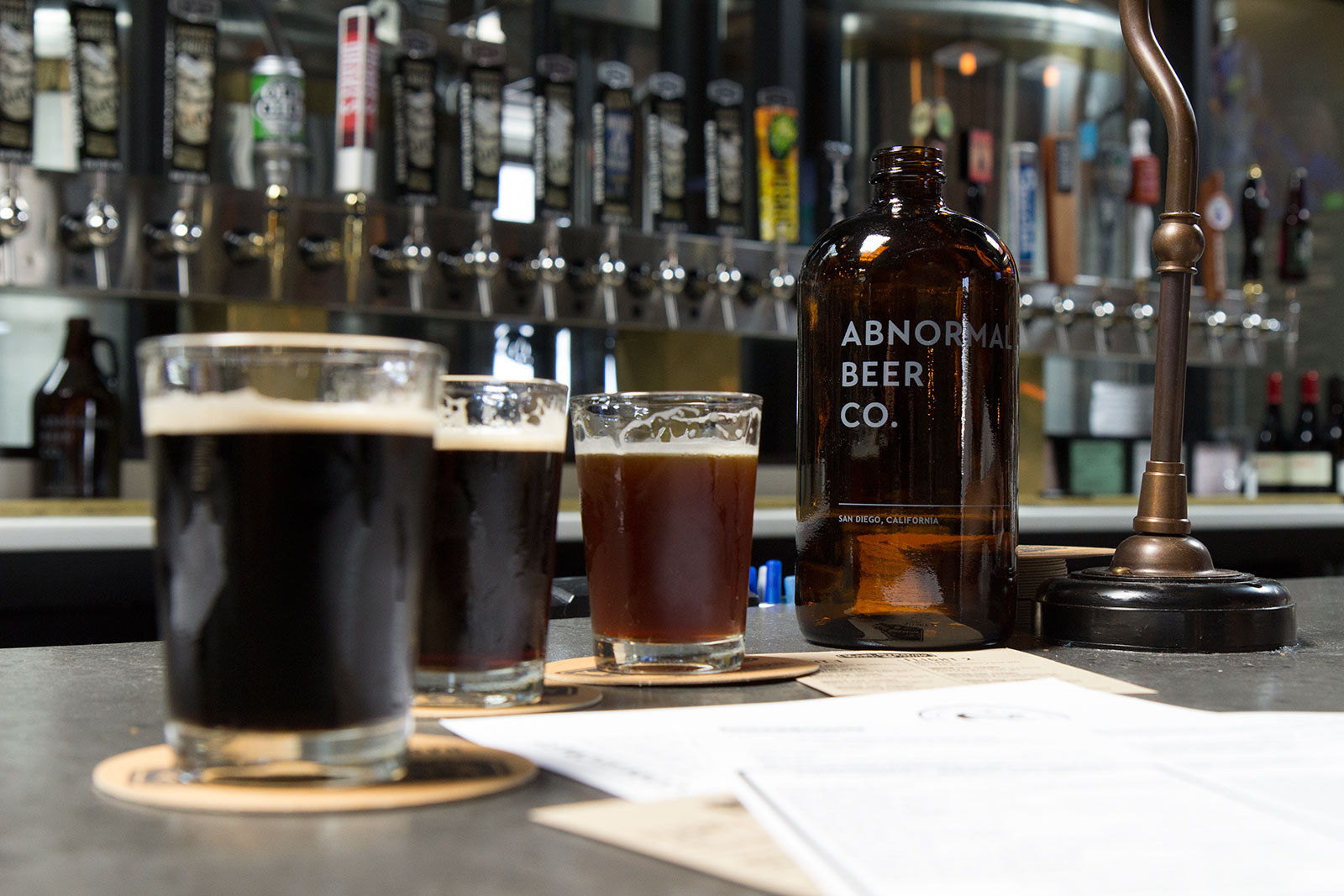 $9 Cubano and a salad… IMO, the perfect portion to soak up some of the house specialties without creating unnecessary pressure and discomfort on the lower extremities… You can bang one of these down and continue sampling the quality beverages without feeling like you've over-stuffed your own haggis…
Natural lighting with some nice big-screens… Local patrons were friendly and ready to converse, but not overbearing. The tasting room/bar area is more-or-less separated from a more traditional restaurant style seating area, with an open kitchen located up front so you can actually watch them preparing the food if that's what you're into. Extra points for a stylish bathroom that smelled like expensive leather.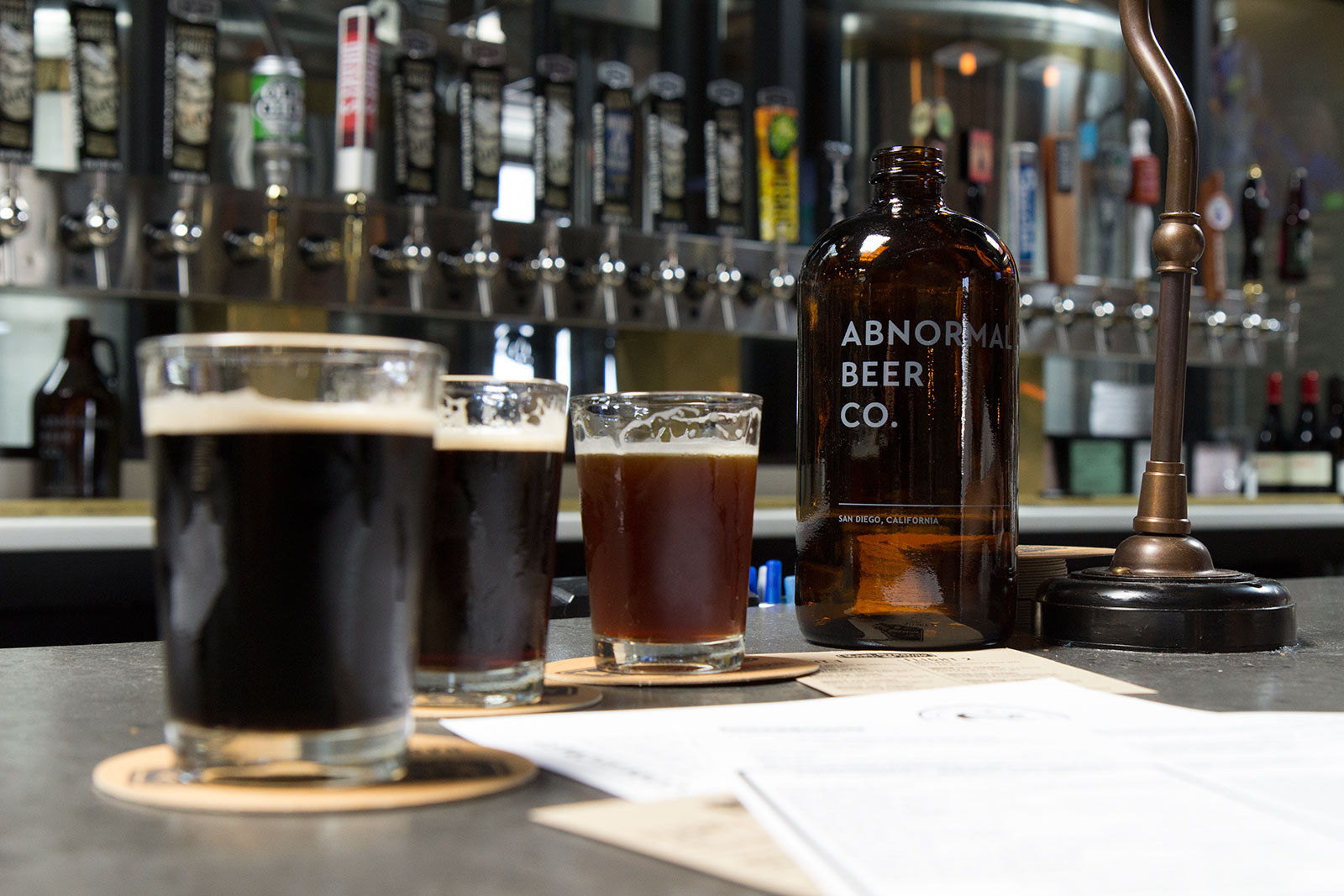 The Staff
As previously mentioned, Head Brewer Derek Gallanosa was sitting at the bar when we arrived. The only reason we knew this was because when I started asking Richard, our cheerful and attentive bar tender, questions about their process, he directed us in Derek's direction, who was more than happy to talk about his beers with us.
Richard was friendly, had a great attitude, and willingly participated in our tourist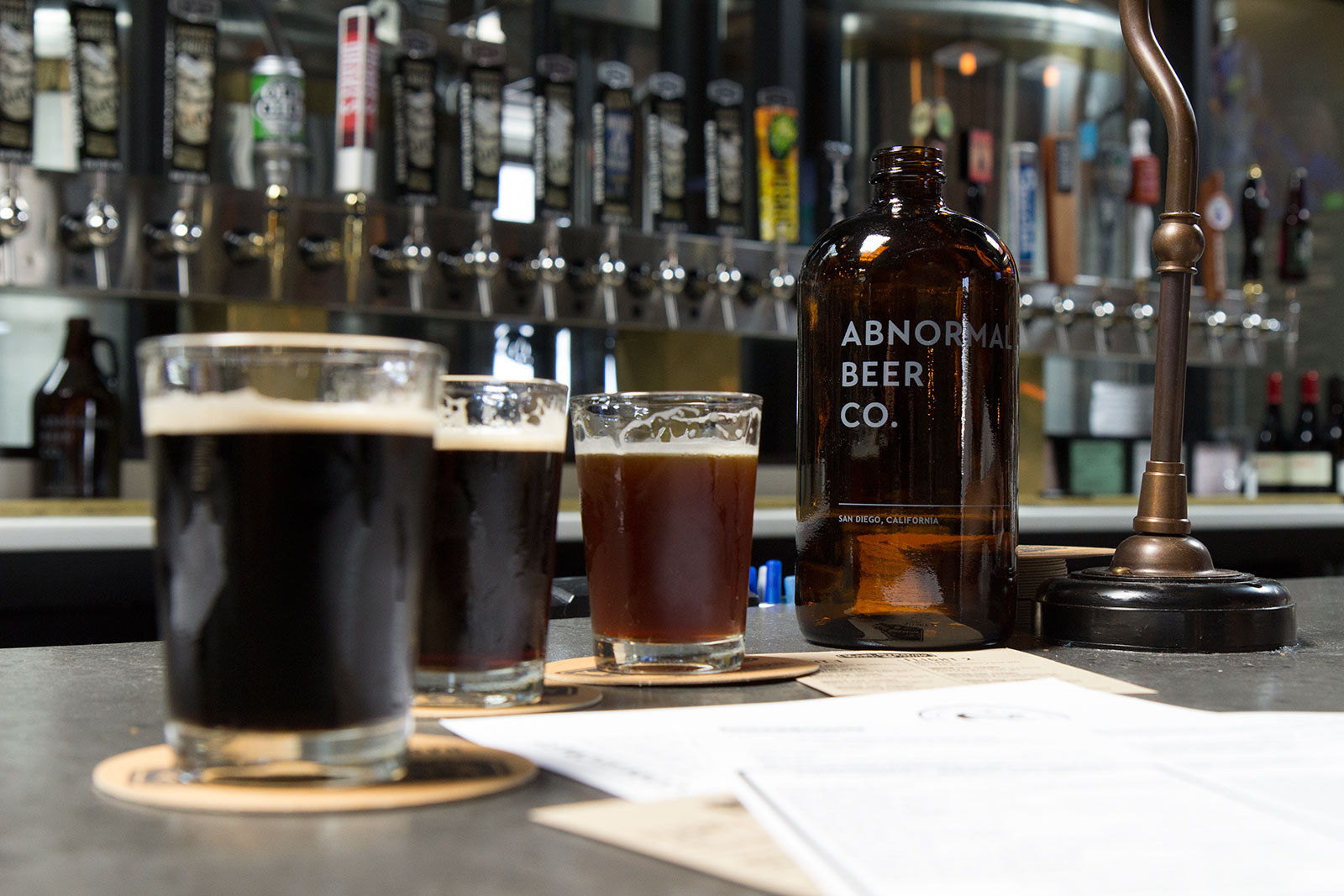 style shenanigans, as in posing and taking pictures, and just generally keeping a great attitude as we became slightly more boisterous as the various elixirs sampled that afternoon began to work their magic.
We haven't fully implemented our rating system yet, which will provide you all the crucial stats at a glance, but as it stands right now, our First Flight at the Abnormal Beer Company was considered a resounding success, and we look forward to flying again with them soon.
~ BB